Our trailers have many variables so call to learn more about customizable features and for a quote to suit your needs.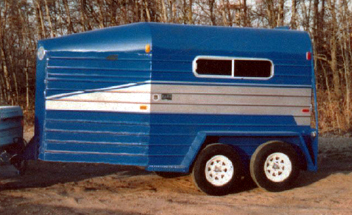 Our V nose bumper hitch cattle and horse trailers have proven very successful, offering people a light and easy-to-pull trailer with a stronger hitch and more usable space inside the trailer.
It offers the same quality and durability as our larger models and is still very affordable as well as much more versatile than competitors.
All the trailers we build are custom designed by us, as they have always been, so designing a trailer to suit your needs isn't as complicated or as costly as you may think.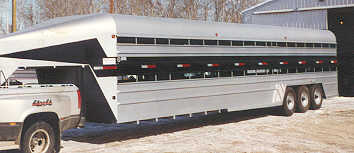 Here we have one of the custom built trailers. This particular trailer has been double decked for sheep with built in ramps and can be converted for cattle or horses.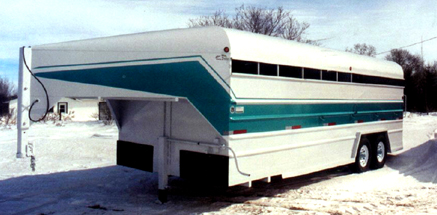 This 20 ft. stock trailer has 14,000lb torsion suspension and comes loaded with standard features including two tone paint, LED exterior lights, interior lights, stone guarding, slam-lock gates, break-away kit, spring jack, Douglas Fir floors, etc.

This 28′ stock trailer is a very popular choice but is seen more often in triple axle, depending on the load.  This style offers extra room without the extra cost of the third axle.

Our 26 and 28 foot triple axle trailers have proven unbeatable for the folks that want to safely and economically haul heavier loads and still run a 3/4 ton truck.  The load is better balanced and more manageable with the 2 interior gates.  Cattle travel well and don't waste the space with the front compartment made smaller for calves.

This 20 ft. stock trailer is a standard model with some minor changes to the front,  allowing for a change area or bed and still has a rear area that is good for cattle and horses. With a little extra height and the 7,000 lb axles, this unit is rugged and versatile.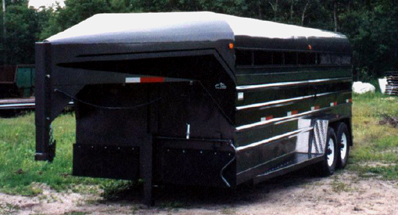 This is our standard 20 foot stock trailer with all the options and color choices needed to suit any livestock handlers.
This is the most popular size with the half ton truck market in mind. Blue hills trailers are designed to carry all they can hold and still not overload the tow vehicle, so if your in doubt on what your truck can handle, be rest assured that Blue Hills is always the choice that won't come back to haunt you.  With 2 x 6000 lb torsion axles and 16 in. 10 ply tires, many folks are adding 2 feet to this trailer for the extra room and convenience, at a very low cost.

This 24 ft unit has the 2 x 8000 lb axles with the 14 ply tires. Though not as popular as the triple axle and a little more money, it does offer the larger axle and tire, which is still popular with some of the regular buyers who have used this style for years.  This trailer is best suited for electric over hydraulic brakes, thus the slight price increase on the quote.  Feel free to call for details.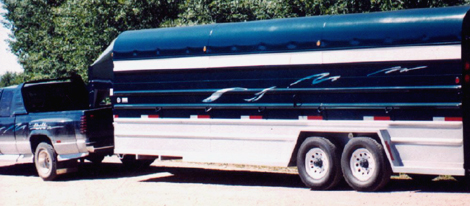 This is also a stardard unit with a little more height, an extra 6 inches of width and some personalized decals.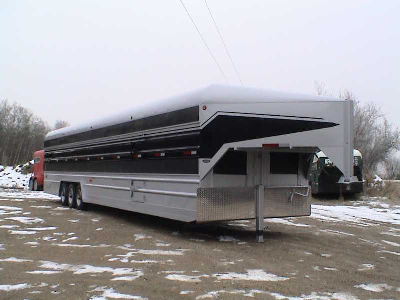 Customizing options, like this 40 foot hog trailers with 3-10,000lb torsion axles , custom gates and venting, is not a problem.  Call for a quote, to discuss available options, or if you need ideas on getting started on your own custom trailer.