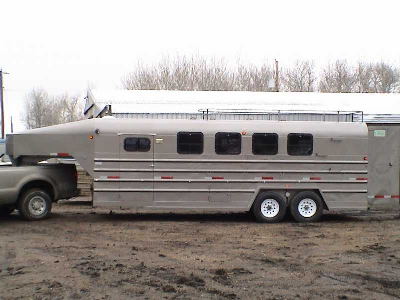 Custom horse trailer with interior showing manger and swing out saddle rack.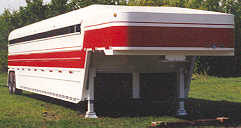 The full gooseneck trailers are designed for highway tractors and have proven to be very reliable and cost efficient to maintain.
This trailer has 2×10,000 lb axles running on 16 ply Goodyear rubber. This allows for the smaller inside fender, straight through floor and lower loading height. they are also more popular in the 3x8000lb torsion axles style and are a little more affordable and have a narrower fender than the 2 x10,000 lb suspension
The swivel king pin is nice on rough terrain, and it also has a full length skid rail.
Also featuring air over hydraulic brakes and ez lube hubs, and torsion axles. Low maintenance is the key to the success of this affordable unit.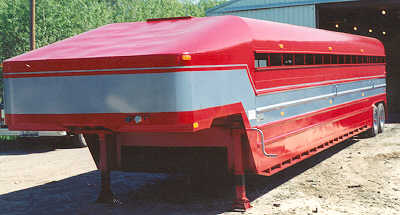 The 34′ stock trailers have been very popular with guys who have picked up a single axle tractor.and can't justify the cost of a new pick up or need to haul the larger loads, these trailrs are designed to work and maintain there value like no other piece of equipment in your yard .virtually maintenance free and durable , over 30 yrs to prove how reliable and durable they are.
The 2 x 8000 lb axles with 16 ply 17.5 rubber has worked very well.
Again, all the large trailers have the 2 stage jacks and heavy duty skid rails.

This stock trailer offers a straight through floor without and ramps and a dual wheel suspension for extra load capacity and is still suited for a single axle tractor. Other styles and suspensions are always available. Just give us a call, everything we design and build has a 5 year structural guarantee.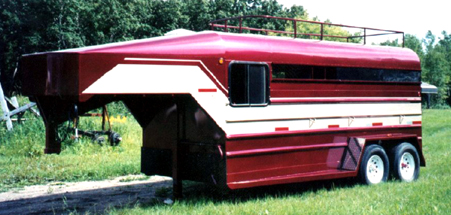 Here is a very practical way to accommodate a living area and a horse livestock compartment that is affordable safe and versatile. The full closeable vent offers better ventilation and the taper front allows a shorter box truck to be used and still allows sleeping room in the front. These trailers are custom designed so call for a price and we'll find a combination to suit your needs.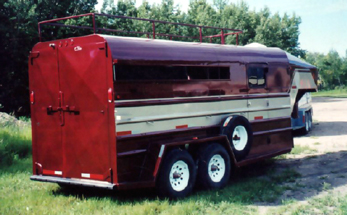 This tapernose trailer offers you room for storage or sleeping and still works well on the shorter truck boxes. There are many options at this point so it helps to know what you are expecting so that the trailer can be designed to your specific needs.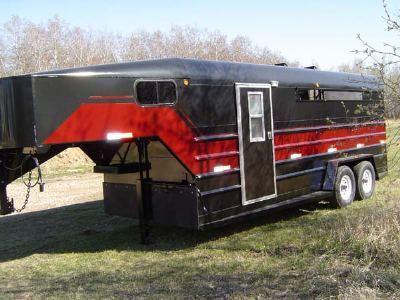 Here's a cost efficient way of hauling your horses and gear, and still have a comfortable rest area and changing area.